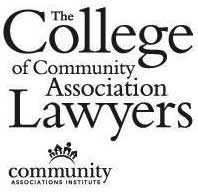 PURPOSE
Since 1993, the Community Associations Institute has recognized excellence in the practice of community association law through the College of Community Association Lawyers (CCAL). Robert Meisner was the first Michigan attorney recognized with fellowship in CCAL, and he is the only currently practicing CCAL attorney in Michigan.
Of the thousands of attorneys practicing community association law in the United States, fewer than 150 have been granted membership in the College. Fellows of the College distinguish themselves through contributions to the development of community association law. Their service is demonstrated by a commitment to educate and empower boards and residents of the more than 320,000 community associations across the country. CCAL attorneys commit themselves to high standards of professional and ethical conduct and work to create a community of experienced legal professionals to advance community association law for the betterment of the communities they serve.
GOALS
Promoting high standards of professional and ethical responsibility in the practice of community association law
Developing and educating attorneys working in the field of community association law
Facilitating the development of community association educational materials and programming related to legal issues for use by other professionals and homeowners
Cooperating with international, national, state and local organizations, government agencies and other groups having an interest in community association law
Working with other college fellows to assist community associations in maximizing effective governance practices
Creating a community of scholars to promote professional development needs and career goals of CCAL fellows
Helping implementing the goals and objectives of the Community Associations Institute and its fellows
Save yourself time, money and frustration by hiring an attorney who specializes in community association law. When you hire a CCAL fellow, you'll know you're being represented by one of the best community association lawyers in the country. CCAL fellows are leaders committed to creating and improving communities and the legal structures that define them.