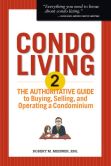 The critically acclaimed condominium book publication in paperback and e-book: Condo Living 2: The Authoritative Guide to Buying, Owning and Selling a Condominium is available for purchase, authored by condominium law specialist Robert M. Meisner, Esq. It's a must read for Board members, co-owners, prospective purchasers, developers, managers, and anyone else involved in condominium living, development or operation. Glenn Haege, "America's Handyman" stated: "Everything you need to know about condo living, Meisner tells what they are – what your rights are and aren't – what you need to look out for. If you live in or are thinking of buying a condominium, you need this book. Read it before signing on the dotted line."
With the real estate market turning around and more people interested in buying a condominium, the need is even more imperative that they have an opportunity to fully examine the issues paramount in considering the purchase of a condominium and which condominium to purchase. The book is especially valuable in this troubled economy, for speculators abound along with half completed condominium developments. Learn how you can avoid the pitfalls of buying a pig in a poke.
To order your print copy, visit www.momentumbooks.com or contact The Meisner Law Group, P.C. at (248) 644-4433.
"When it comes to the legality of rules for condominium associations, the guy who wrote a book on the topic is Bob Meisner of the Meisner Law Group, (248) 644-4433, Meisner-law.com. His latest book, "Condo Living 2," provides information about condo living, including what your rights are and aren't."

August 22, 2014; By: Glenn Haege, the "Handyman Show" on WJR-AM (760).

Mr. Meisner:

I had the opportunity to read your book "Condo Living". It was awesome! I think this should be a mandatory read for all present and future board members. I really enjoyed it, that I have recommended it to the rest of the board. I checked it out from the library and enjoyed it so much, that I have gone to Amazon.com and purchased your book. This way I can highlight and make notes on important issues you addressed.

John Mihuc, Westwood Farms